The ZIRIUS Participation and Deliberation Lab provides a platform for innovative experimental and observational research on deliberation and citizen participation. Deliberation and citizen participation have moved to the forefront of current research in political science and sociology, but despite myriads of practical applications world-wide we lack robust and systematic knowledge under which conditions these democratic innovations work to which effect. By conducting novel types of lab and survey experiments, by applying advanced research designs to understand deliberation and participation, by employing and developing novel tools to stimulate deliberative activities and by measuring the quality of deliberation in automated ways, the ZIRIUS Deliberation and Participation Lab tries to close this research gap. Moreover, the Lab also consults researchers and practitioners how to run deliberative and participatory events effectively and how to evaluate their performance and their outcomes.
Research Areas and Projects:
Communication Experiments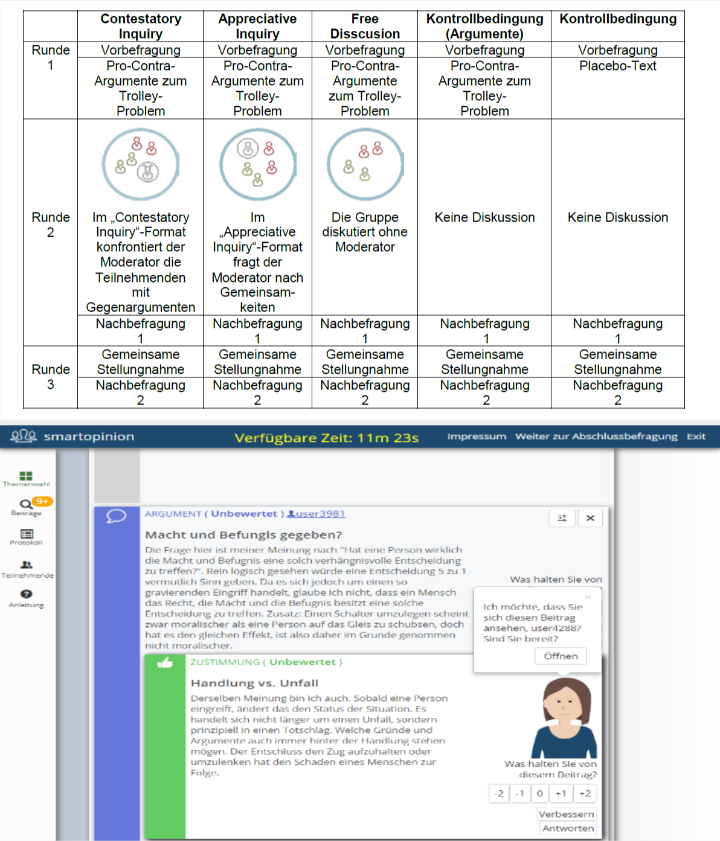 Optimal Communication: The goal of this project – funded by the Terra Incognita Fund of the University of Stuttgart - is to test how different communication formats - debate-style formats ("contestatory inquiry") vs cooperative dialogue formats ("appreciative inquiry") - affect internal communicative dynamics and outcomes in the context of the famous Trolley-dilemma. The research hypothesis is that epistemic advancement is promoted by debate-style formats whereas common ground is promoted by cooperative dialogue formats. The project brings together experimental research, multi-agent simulation, computer linguistics and artificial intelligence research for the first time.
Research team: André Bächtiger, Gregor Betz, (KIT), Raphael H. Heiberger, Jonas Kuhn and Sebastian Pado (University of Stuttgart)
This project - sponsored by the Swiss National Science Foundation - will explores how citizens make decision in Swiss direct democracy when exposed to one-sided vs multi-sided and balanced argumentation.
Research team: André Bächtiger, Marc Bühlmann, Marlène Gerber, Anja Heidelberger (University of Bern) and Dominik Wyss
Automated measurement tools for discourse quality
For a long time, studying communication processes empirically and assessing the quality of discourse was a highly demanding and time-consuming endeavour, requiring in-depth content analysis and extensive reliability testing. Computer-assisted textual analysis can help to speed up data collection and supersedes reliability testing. This research area will focus on a newly developed machine-learning tool for measuring deliberative quality on the basis of the Discourse Quality Index (DQI), dubbed DelibAnalysis (Fournier-Tombs and Di Marzo Seguendo 2019 https://journals.sagepub.com/doi/abs/10.1177/0165551519871828)
André Bächtiger, Marlène Gerber and Eléonore Fournier-Tombs (2019): Discourse Quality Index (DQI): A Critical Appraisal
Leiter des Participation and Deliberation Lab