Scenarios have evolved as an indispensable tool for future planning in politics, business, administration, and beyond. Between intuition-based scenario methods and mathematical modeling, the field of semi-formalized scenario methods has been established. These methods are particularly suitable for scenario topics for which only qualitative insights into the systemic interrelationships exist, but which are also too complex for mental analysis.
At the CIB-Lab we focus on the Cross-Impact Balance Analysis, which is especially designed for this type of scenarios. The CIB was developed at ZIRIUS and is now used worldwide for an algorithm-based development of qualitative and semi-quantitative scenarios. The method is thematically generic. Typical fields of application are energy, climate and sustainability research.
CIB is based on the qualitative and/or semi-quantitative elicitation of the interdependencies of a complex system using expert or stakeholder assessments and/or literature analysis. The interdependencies thus compiled define a qualitative impact network that can be evaluated according to formal consistency criteria (the CIB consistency principle), leading to "consistent scenarios" of system behavior. These can be used, for example, for planning, strategy development or intervention analysis.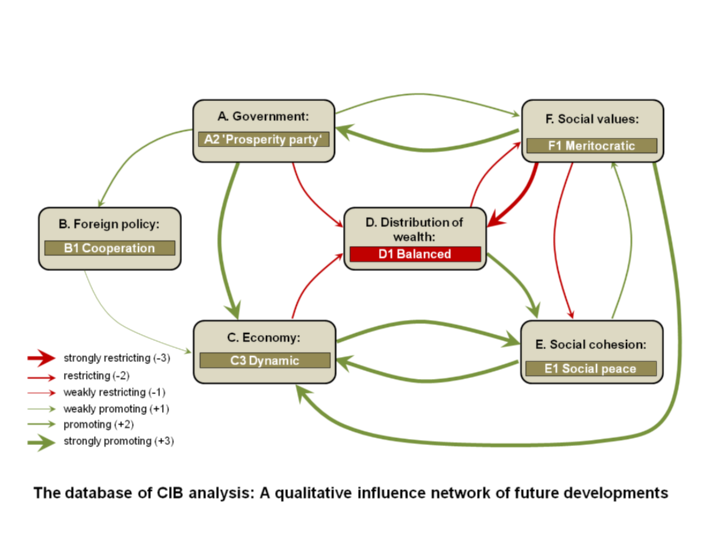 The aim of the CIB-Lab is to further develop the method and enhance its potential and applicability to new fields. At the CIB-Lab, we:
implement CIB application projects
deal with methodological questions concerning CIB analysis, including the development and testing of method extensions
maintain and further develop the CIB software ScenarioWizard
maintain the method homepage www.cross-impact.org, which provides aforementioned software, method information and a bibliography
collect and methodologically analyse published CIB applications to foster learning effects and practical recommendations for the method application
support the international network of research institutions that apply or methodically research CIB
advise users, supervise guest researchers, give lectures and conduct training measures.
The CIB-Lab cooperates closely with the research area "Method Development" at ZIRIUS.
Application and methodological research projects
In this case study, the possibilities of integrating the effects of innovation processes into energy-economic modeling were examined. The contribution of the CIB method consisted in an analysis of the political and economic environment structures that could favor or inhibit innovation processes. For this purpose, four innovation and four energy experts developed a qualitative model of the interdependencies between political measures, entrepreneurial structures and technological developments in a series of workshops. The model was evaluated using the CIB method, transferred to innovation scenarios. On this base, the systemic effectiveness of different policy patterns was assessed.

Project duration: 2004-2005
Funding: BMWi
Partner: Forum für Energiesystemanalyse
Contact: Wolfgang Weimer-Jehle
Publications
Weimer-Jehle W. (2006): Cross-Impact Balances: A System-Theoretical Approach to Cross-Impact Analysis. Technological Forecasting and Social Change, 73:4, 334-361.
Weimer-Jehle W. (2008): Cross-Impact Balances - Applying pair interaction systems and multi-value Kauffman nets to multidisciplinary systems analysis. Physica A, 387:14, 3689-3700.
Weimer-Jehle W. (2009): Properties of Cross-Impact Balance Analysis. arXiv:0912.5352v1.
Weimer-Jehle W. (2009): Szenarienentwicklung mit der Cross-Impact-Bilanzanalyse. In: Gausemeier J. (Hrsg.): Vorausschau und Technologieplanung. HNI-Verlagsschriftenreihe Vol. 265, Paderborn, 435-454.
Kosow, H. (2011): Consistent context scenarios: a new approach to 'story and simulation'. In: Proceedings of the 4th International Seville Conference on Future-Oriented Technology Analysis (FTA), Seville (Spain), 12.-13.05. 2011.
Weimer-Jehle W., Kosow H. (2011): Gesellschaftliche Kontextszenarien als Ausgangspunkt für modellgestützte Energieszenarien. In: Dieckhoff C. et al. (Hrsg.): Energieszenarien - Konstruktion, Bewertung und Wirkung. KIT Scientific Publishing, Karlsruhe.
Weimer-Jehle W., Prehofer S., Vögele S. (2013): Kontextszenarien - Ein Konzept zur Behandlung von Kontextunsicherheit und Kontextkomplexität bei der Entwicklung von Energieszenarien. TATuP 22(2), 27–36.
Kosow H. (2015): New outlooks in traceability and consistency of integrated scenarios. Eur J Futures Res 3:16, DOI 10.1007/s40309-015-0077-6.
Kosow H. (2016): The best of both worlds? An exploratory study on forms and effects of new qualitative-quantitative scenario methodologies. Dissertation, Universität Stuttgart.
Shojachaikar A. (2016): Qualitative but systematic envisioning of socio-technical transitions: Using cross-impact balance method to construct future scenarios of transitions. International Sustainability Transitions Conference 6-9 September 2016, Wuppertal.
Scheele R., Kosow H., Prehofer S. (2017): Kontextszenarien als Ergänzung modellgestützter Szenarioanalysen – Grundlagen und aktuelle Fragestellungen. In: Tilebein, M. et al. (Hrsg.) Digitale Welten: Neue Ansätze in der Wirtschafts- und Sozialkybernetik. Wirtschaftskybernetik und Systemanalyse Band 30, Berlin: Duncker & Humblot, 107-121.
Weimer-Jehle W., Kosow H. (2017): Konsistenz von gesellschaftlichen Rahmenannahmen - Erfahrungen mit CIB. In: Biemann K., Distelkamp M., Dittrich M., Dünnebeil F., Greiner B., Hirschnitz-Garbers M., Koca D., Kosow H., Lorenz U., Mellwig P., Neumann K., Meyer M., Schoer K., Sverdrup H., von Oehsen A., Weimer-Jehle W.: Sicherung der Konsistenz und Harmonisierung von Annahmen bei der kombinierten Modellierung von Ressourceninanspruchnahme und Treibhausgasemissionen. Umweltbundesamt Dokumentationen 04/2017, Dessau, 22-28.
Scheele R., Kearney N.M., Kurniawan J.H., Schweizer V.J. (2018): What Scenarios Are You Missing? Poststructuralism for Deconstructing and Reconstructing Organizational Futures. In: Krämer H., Wenzel M.: How Organizations Manage the Future - Theoretical Perspectives and Empirical Insights. Springer International Publishing, Kapitel 8. DOI: 10.1007/978-3-319-74506-0_8
Scheele R. (2019): Applause for Scenarios!? An Explorative Study of 'Plausibility' as Assessment Criterion in Scenario Planning. Dissertation, Universität Stuttgart.
Schmidt-Scheele R. (2020): The Plausibility of Future Scenarios. Conceptualising an Unexplored Criterion in Scenario Planning. Transcript Independent Academic Publishing, Bielefeld.
Method applications, sorted by application fields
Head of Cross-Impact Bilanz Analyse Lab
Spokesperson for the Research Area Method Development