Scenarios have evolved as an indispensable tool for future planning in politics, business, administration, and beyond. Between intuition-based scenario methods and mathematical modeling, the field of semi-formalized scenario methods has been established. These methods are particularly suitable for scenario topics for which only qualitative insights into the systemic interrelationships exist, but which are also too complex for mental analysis.
At the CIB-Lab we focus on the Cross-Impact Balance Analysis, which is especially designed for this type of scenarios. The CIB was developed at ZIRIUS and is now used worldwide for an algorithm-based development of qualitative and semi-quantitative scenarios. The method is thematically generic. Typical fields of application are energy, climate and sustainability research.
CIB is based on the qualitative and/or semi-quantitative elicitation of the interdependencies of a complex system using expert or stakeholder assessments and/or literature analysis. The interdependencies thus compiled define a qualitative impact network that can be evaluated according to formal consistency criteria (the CIB consistency principle), leading to "consistent scenarios" of system behavior. These can be used, for example, for planning, strategy development or intervention analysis.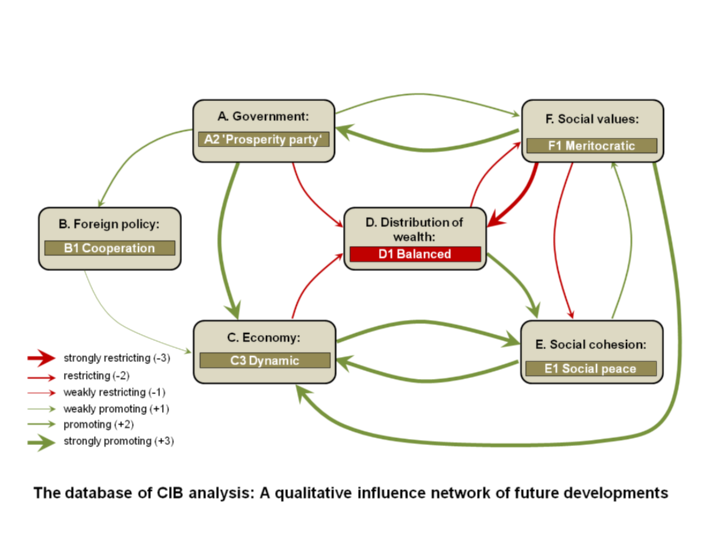 The aim of the CIB-Lab is to further develop the method and enhance its potential and applicability to new fields. At the CIB-Lab, we:
implement CIB application projects
deal with methodological questions concerning CIB analysis, including the development and testing of method extensions
maintain and further develop the CIB software ScenarioWizard
maintain the method homepage www.cross-impact.org, which provides aforementioned software, method information and a bibliography
collect and methodologically analyse published CIB applications to foster learning effects and practical recommendations for the method application
support the international network of research institutions that apply or methodically research CIB
advise users, supervise guest researchers, give lectures and conduct training measures.
The CIB-Lab cooperates closely with the research area "Method Development" at ZIRIUS.
Application and methodological research projects
Lead of the Cross-Impact Bilanz Analyse Lab
Spokesperson for the Cross-Impact Bilanz Analyse Lab | Research Associate
Spokesperson for the Cross-Impact Bilanz Analyse Lab | Research Associate